FASTMOVER
ST-BEARINGS from TEMPLIN AUTOMOTIVE FASTMOVER program – the reference for quality and availability for truck and trailer application.
Reliable range optimisation of over 2,000 commercial vehicle spare parts in OE quality for all common and wear-prone vehicle parts. FASTMOVER consists of an optimised "best-user assortment" with high availability and flexible logistics in order to be able to respond individually to customer needs.

Wheel and hub ball bearings
More than 123 different references permanently available!
Complete programme with up to 95% market coverage
OE quality
I SO 14001 Environmental Management System, IATF 16949 Quality Management System and ISO 45001 occupational health and safety.
Continuous quality control by our own quality management and additionally also by external institutions.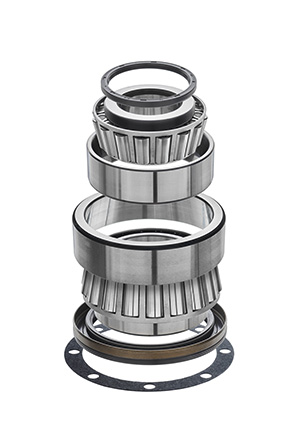 Perfect fit for your range!
Compare the use information for manufacturer and design from over 123 different references:
| wdt_ID | ST-TEMPLIN | ST-TEMPLIN | SKF ref. no.: | FAG ref. no.: | Manufacturer: | Manufacturer: | Execution: | E-STore |
| --- | --- | --- | --- | --- | --- | --- | --- | --- |
| 1 | 110500243070.0000 | 11.050.0243.070 | VKHB 2405 S | 33213 | #REF! | BPW, GIGANT, Kässbohrer | MERCEDES VL, VO; SAF ESNMP, EU, EZN, IERDZW, KRS, KRZ, RBM, RLBM, RLSM, RS, RSK, RSM, RSMP, RST, RZ, RZM, RZMP, RZT, SK, SKRLZ, SKRS, SKRSP, SKRZ, SKRZT, SKZRLZ | |
| 2 | 110502043000.0000 | 11.050.2043.000 | VKHB 2029 | KHM218248.HM218210 | MAN, MERITOR, RENAULT, SAF, SCANIA, TRAILOR, VOLVO, YORK | MAN, MERITOR, RENAULT, SAF, SCANIA, TRAILOR, VOLVO, YORK | MAN E2000, TGS I; RVI MAGNUM, R; SCANIA 3, 3 BUS, 4, P,G,R,T; VOLVO FH12, FH16, FM12, FM9 D12A340-OSC11.03 10.83- | |
| 3 | 110500243350.0000 | 11.050.0243.350 | VKHB 2404 S | 33118 | #REF! | BPW, GIGANT | IVECO EUROCARGO I-III; SAF RZM, RZT, WRSM; GIGANT PROTEC; BPW EH, KH, KM, KR, NH, NR, SH, SKH, SKM | |
| 4 | 110500243030.0000 | 11.050.0243.030 | VKHB 2401 S | 32310 | #REF! | BPW, GIGANT, Schmitz Cargobull | MAN HN, V; MERCEDES NR, NS, VD, VL; MERITOR TE; BPW KH, KM, KR, NH, NR, SH, SKH, SKM | |
| 5 | 110500243050.0000 | 11.050.0243.050 | VKHB 2403 S | 33116 | #REF! | BPW, GIGANT, Schmitz Cargobull, RUBERY-OWEN | MERCEDES HD, TE, TZ; GIGANT PROTEC; BPW KH, KM, KR, NH, NR, SH, SKH, SKM | |
| 6 | 110500247720.0000 | 11.050.0247.720 | VKHB 2315 | n.a. | MERITOR | MERITOR | MERITOR LM, LMC | |
| 7 | 110500247060.0000 | 11.050.0247.060 | VKHB 2306 | 32020X | MERCEDES | MERCEDES | MERCEDES ACTROS, ATEGO, AXOR 2, ECONIC M902.900-OM926.990 04.96- | |
| 8 | 110500243160.0000 | 11.050.0243.160 | VKHB 2162 | 33021Q | DAF, MERCEDES | DAF, MERCEDES | DAF 75, CF 85, XF 105, XF 95; MERCEDES ACTROS, ATEGO, AXOR 2, ECONIC, MK, O 307, O 405, O 407, O 408 M476.925-XE355C 04.73- | |
| 9 | 110500243080.0000 | 11.050.0243.080 | VKHB 2065 | 33208 | DAF, MAN, MERCEDES, VOLVO, BPWW | DAF, MAN, MERCEDES, VOLVO, BPWW |  DAF 95 XF, CF 85, XF 105, XF 106, XF 95; MAN E2000; MERCEDES ATEGO, ATEGO 2, LK/LN2, MK, NG, O 303, OF, OH; RVI MIDLINER; VOLVO B6 798-10-XF355M 01.70- | |
| 10 | 110500248950.0000 | 11.050.0248.950 | VKHB 2147 | 201031 | #REF! | DAF, MAN, SCANIA | DAF 65 CF, 75, 75 CF, 85 CF, 95, 95 XF, CF 65, CF 75, CF 85, LF, XF 105, XF 95; MAN E2000, TGA, TGS I; SCANIA 3, 4, P,G,R,T CE136C-XF355M 09.87- | |